German Metal Traders (VDM)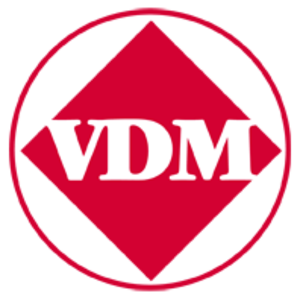 Since september 1. 2010, we are member of the "Verband deutscher Metallhändler e.V.", called "VDM". This is an organization for German metal traders. We are also involved in the VDM quality community for waste electrical equipment.

This association was founded in 1907 in order to establish metal exchange markets in Berlin and Hamburg. Today they are focusing on non-ferrous metal trade and recycling. The "VDM" addressed itself to the task to inform its members all the time and to keep them updated. For this purpose the members get newsletters which deal with the most current developments in prices and market. But also changes or innovations in taxes, laws and economy are mentioned. Furthermore support for certification and, if necessary, individual consulting for questions and problems is offered.
At this time the "VDM" possesses eight task forces which are dealing explicitly with specific issues. They concern metal exchange market, environment, Ferro alloys, market in general, taxes and miscellaneous internal dues, association cable recyclers at the "VDM", association waste electrical equipment at the "VDM" and above all youth encouragement. The "VDM" attaches great importance to persuading the recycling business youth to communication and cooperation. Being part of the "VDM" gives you the ability to socialize with important business partners and to enlarge your knowledge daily what is of great importance especially for newcomers.

The "VDM"´s head office is located in Berlin and also an European bureau in Brussels belongs since 2007 to it. Endeavouring to enlarge their expert and business knowledge the "VDM" works closely with other organizations, among others the Bundesverband des Deutschen Groß- und Außenhandels e.V. (BGA) or the Bundesvereinigung Deutscher Stahlrecycling- und Entsorgungsunternehmen e.V. (BDSV). Furthermore the "VDM" belongs to the "Bureau of International Recycling" (B.I.R.) which is the worldwide connection of recycling business and the "European Metal Trade and Recycling Federation" (EUROMETREC), the federation of European metal trade representing the national interests at the European Union commission in Brussels. On top it is member of the "Minor Metal Trade Association" (mmta).
Being part of the VDM we hope for active exchange with other business partners and improvement of communication. Furthermore we want to be updated all the time concerning new ordinances, guidelines and laws, but above all concerning the development of market and prices.