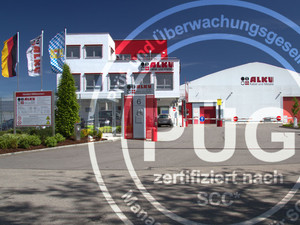 CERTIFICATIONS
Our company holds the following certificates:
Specialist disposal company
Specialist disposal company according to § 56 ("KrWG"), legally defined in Article 2 of the Ordinance on Specialist Disposal Companies.

Primary Treatment Facility (ElektroG)
Certified primary-treatment facility for WEEE according to the Electrical and Electronic Equipment Act ("ElektroG").
WEEELABEX
To fullfil high quality demands as well as branch-specific standards for electronics recycling, ALKU has successfully passed the voluntary WEEELABEX audit and will also perform required future repeat audits.
WEEELABEX (WEEE LABel of EXcellence) is short for a co-funding project from the EU to develop a Europe-wide standard for the auditing of recyclers of waste electrical and electronic equipment.
The WEEELABEX certification specifies recycling of the single device groups and their specific properties. With this alignment, WEEELABEX regulations focus on operational implementation, whereas WEEE-Directive primarily defines the legal framework. The requirements are described in three documentations – collection, logistics and treatment of old electrical and electronical equipment. Members of the WEEELABEX-Organization are various service providers and associations of producers for electronic and electrotechnical products. They assume certification according to WEEELABEX-standard for their customers and members.
So far the standard is valid for members of the European WEEE-forum (nearly 40 collection and recycling systems) as well as for Dutch recycling companies. In Germany there is no legal obligation to obtain a certification according to a certain standard so far.
In the accredited WEEELABEX certification system meanwhile all previously published CENELEC standards have been fully implemented according to EN 50625.
Specialist for file and data destruction (DIN 66399)
Work safety - SCC* certification
According to the SCC rules and standards ALKU GmbH received the Safety Certificate Contractor (SCC*) certification in regard to the labour protection management system by the PÜG (Prüf- und Überwachungsgesellschaft - a testing and inspection company).

In addition to our certifications 'Waste Management Company' according to the Ordinance on Specialised Waste Management Companies (EfbV) and 'Primary Treatment Facility' according to the German Electrical Equipment Act (ElektroG), we are able to prove that we have integrated an effective system for safety, health and environmental protection (SHE) and thus meet the stringent safety standards.

Especially for sensitive areas such as transformer disassembly it is most important that also external companies meet the specific safety requirements of the customer to guarantee a smooth production and correct handling. With our SCC* certification we ensure a safe and reliable execution of technical services by a team of trained and professional staff.
Quality Management according to DIN EN ISO 9001:2015
Quality Management according to DIN EN ISO 14001