Floor Panels
With regard to recycling we collaborate closely with the company Replast. Apart from e.g. slowing thresholds and cable protectors, that company also produces floor panels for the most diverse range of purposes. The 20 types of panels are employed in exhibition halls, sport stadia, stables, industrial companies and elsewhere. The special point to note is that all Replast's products are made from a single "waste product", namely recycling PVC. Thus the resources are used in the best possible way and the environmental burden is reduced.
click here for further information about floor panels at our co-operation partner Replast


A few examples for the multifunctional usages:
Empfindliche Untergründe
Für mehr Informationen klicken Sie bitte auf den Pfeil


Begrenzung
Für mehr Informationen klicken Sie bitte auf den Pfeil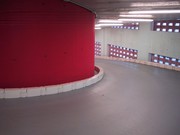 The raised track-edges are also produced from recycled PVC. They can be used in a considerable variety of ways, to meet individual profiles of needs, e.g. in car park installations or also on racing tracks. In addition, and in contrast to permanently fixed materials, they can be dismantled at any time and built up anew elsewhere.